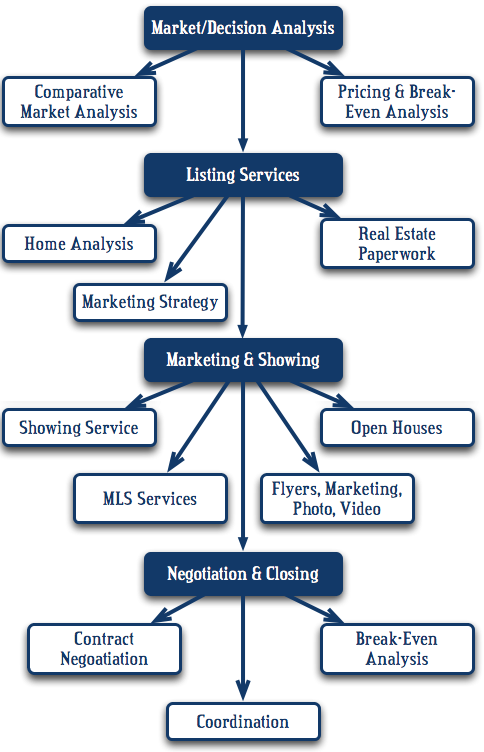 Please contact us when you want to start – we'll help you!
Market Analysis/Decision Analysis
Deciding to sell/CMA – selling your home is a big decision.  We'll help you make your decision by providing you with quality information concerning market/location and pricing conditions; home feature and condition recommendations;
Pricing and break-even analysis; there are many components to consider but we're here to help make the complex simple!
Residential Listing Agreement – before we can adequately represent your interests and assist you to sell your home it will be important for you to understand and sign a Residential Listing Agreement.  This document specifies the condition by-which your house will be listed (and sold!) – pricing, showing services & access, commissions, etc., etc.  We'll help you understand the implications of this 8-page contract.
Recommendations/Home Analysis – we'll help you understand how best to represent your house so that you can get top dollar as well as sell in a timely fashion.  Also see Market Analysis
RE paper work – we'll need to validate Title, Survey, Warranties, Seller's Disclosure, etc.  These will be required for finalizing and closing the deal.
Marketing strategy – there are multiple means to market and show your house; we'll utilize all pertinent options for your home.
Marketing & Showing – in general
MLS (Multiple Listing Service) – we'll set up your house on the MLS – the quickest way to have your house exposed to hundreds and thousands of real estate agents.  The listing will include all pertinent info as well as pictures, marketing verbiage and documents
Showing – we'll diligently show your house and expose Buyers to the features and benefits of owning your home
CSS (Centralized Showing Service)  – provides full-service scheduling capability & limited marketing
Supra Electronic Keybox -provides continuous and secure access for showing
Open House -periodic Open House opportunities as pertinent
Marketing fliers – in-home & in-box; Spanish language if pertinent
Marketing Syndications – 60+ including Realtor.com; Craigslist; Front Door; etc.
Yard Sign & Flier box – a must for advertising the house – we use high reflective signs so that they're easily read whether night or day
Surveys and other means to capture Buyer interest and feedback.
Virtual Tours – video marketing services
Also see Marketing that makes a difference! and SOLD!
Offers, Negotiations, & Closing – We'll negotiate on your behalf, keeping your interests foremost.  We'll help you to get the best deal while balancing the risk of losing the deal due to conflicting interests (with the Buyer).  We'll help you to understand the contracts and various forms required to navigate the real estate process.
Break Even Analysis – We'll help you to understand prior to making an offer and through negotiations the break-even/profit-loss implications.  It's a complex business but we're here to help make it a great experience!
Post Sale
Move-out & the future –give us the chance to find the next home of your dreams!  See

Buyer Services

and Buyer – How do I get started?
Let's Get Started!  Want to know what your home is worth?
[contact-form-7 404 "Not Found"]