Considerations for Purchasing Commercial Property!
Thanks for visiting this page – I hope that the info below is very helpful – let me know if I can be of more assistance with your commercial property purchase or sale journey!
Unless purchasing with all cash – for most real estate transactions the first step is financing – what is needed to obtain a loan for commercial property? [for a Seller it is also important to understand Buyer financing and the nuances associated with such]
Some key considerations when seeking lending for Commercial properties: –
Questions to ask the lender:
What type of loan(s) can you offer? (commercial/business loan – traditional/conventional? SBA? Other?)
Will your loan parameters meet my need?

Purchase of existing structure/property

Purchase of Land plus new construction

New construction on land that is already owned (possibly applying the value of the land as cash injection)

Renovation of existing property after acquisition

What are the origination and other administrative fees paid to the lender itself (not including Title services, insurance, taxes, or loan payment)?
How soon can a term sheet be obtained? The 'term sheet' –

is similar to a residential 'pre-qualification' letter; it does not imply that the lender can commit to this loan (yet)

will contain key info related to how the lender proposes to solve the loan requirements:

type of loan? (SBA? Conventional?)

expected sources of funds (down payment/injection funds? collateral? etc.)

total loan amount, expected working capital, closing costs, and other fees (such as the SBA guarantee fee)

expected interest rates & terms (usually a loan that combines a fixed rate (for some period of time) together with a variable rate (thru the maturity time period) – rates are usually based on the prime lending rate (thus the rate will be something like Prime + 1.5 points (as an example))

Depending upon the intended use of the loan (business acquisition; equipment; real estate; etc.) the length of term may be different (usually between 10-25 yrs)

The projected monthly payment (which does not include aspects such as insurance, & property taxes. Also, it's always wise to estimate additional monthly costs such as janitorial, CAM (common area maintenance), utilities, etc.

Personal guarantees required – often a key aspect for commercial lending is that the lender will try to utilize existing assets for collateral (possibly reducing the loan amount) – and placing liens on such assets

How long will it take to get a final commitment letter from the lender? 

The timeframe is VERY dependent upon the buyer's financial situation, what type of loan is being request (conventional, SBA (and the variations thereof), etc.), and the lender (and their processes).
One should plan for 45-90 days depending upon multiple factors (are renovations part of the deal; what city/county regulations/permits are required; etc., etc.). This would imply that the buyer should negotiate a diligence period that is sufficiently long enough to get full loan approval.

What aspects will be needed in order to obtain the lender's commitment letter?  The lender will likely request, at minimum:

Loan purpose – as mentioned above, this could include many aspects from business acquisition, real estate, etc.Basic personal info – name, address, SSN, valid id's, etc.Basic business info – entity type, EIN (employer identification number), business licenses & permits; business planCredit profile – could be based on the company credit scores and/or individual scores of principles/partnersVarious financial docs – P&L/income statement; balance sheet/cash flow statement; business debt schedule; corporate documentation, etc.Asset verification – funds and/or collateral to be used as loan injection will need to be verifiedTax returns – at-least 2 yrs – both personal and corporate

Bank statements – 3 or more months of business bank statements
SBA Funding vs Traditional/Conventional funding (side by side):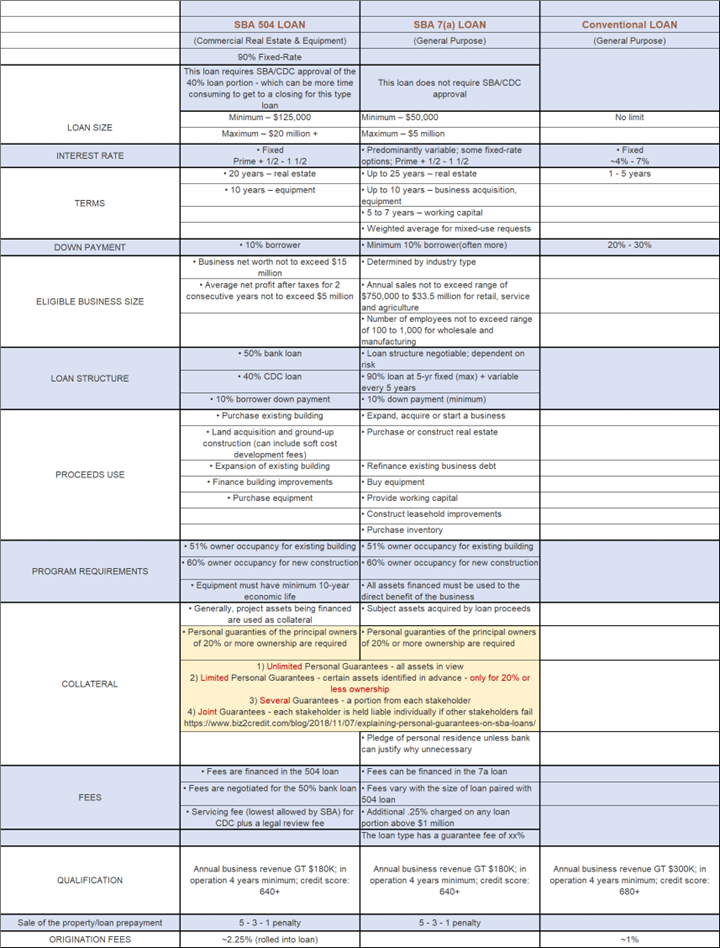 Financial analysis & proposal:
Much more so than with residential acquisition – those seeking commercial property are also seeking the financial analysis & proposal – does this investment make sense? What is the income & operating expenses? What is the anticipated cash-flow? For the long term – what would be the expected return on investment (ROI)? What is the IRR (internal rate of return)? What is the current CAP rate and if purchased and renovated (or held as investment) can the CAP rate be lowered? What are the implications of a mortgage loan (cash on cash return)? Etc, etc. Depending upon the property and its intended use these values (above) can greatly assist with financial decision making.
Sample 10-yr cash flow analysis – purchase of industrial property:

Sample analysis – sale of commercial office (fancy tools above but I can do this the old fashion way as well – spreadsheet):

Diligence:
There's a ton of diligence required whether dealing with land, or building properties ('commercial' property usually includes various aspects – office, retail, industrial, hospitality, warehouse, multi-family, healthcare, and whole businesses).
There are some diligence aspects that can be obtained prior to having a contract on the property – but many aspects can only be accomplished after contract (during feasibility). Some aspects which we'll want to check prior to contract (if possible):
Deed restrictions & Zoning – does the City/County zoning and deed restrictions support the intended use?
Survey – do the boundaries support the expected use? Are there any easements, restrictions, or ROWs (right of ways) that impact the property use?
Floodplain – unless the survey is recent it's necessary to check the FEMA maps for floodplain implications
Utilities – understanding access & use of utilities
Property Condition statement –

Property condition & disclosed defects

For any commercial loan the lender will require a Phase 1 Environmental (ESA) report (hazardous waste; endangered species, lead based paint, etc.)

Lawsuits or other aspects that could encumber or affect clear title

etc, etc. many key aspects that ultimately will need to be understood – whether or not there is a property condition statement

Aspects such as ESA (environmental), GeoTech (soil analysis & slab conditions), Asbestos, TDLR (ADA compliance), TCEQ (water/septic regulation), TxDot (highway regulation) and more – generally are performed during the feasibility period (as appropriate – e.g Geotech is not required for an existing building, etc.).
See below a few sample timelines with diligence items…
For land: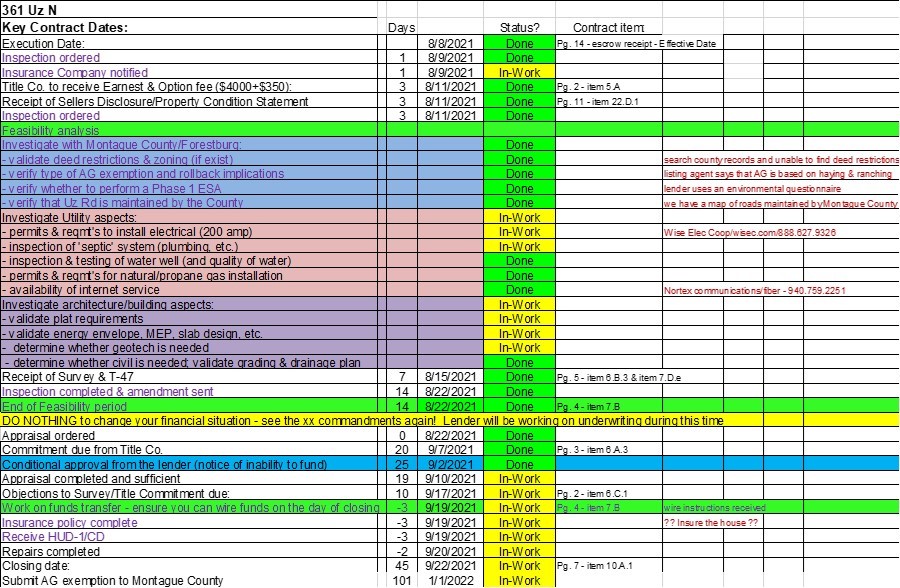 For Office (with intention to renovate via lender funds – SBA):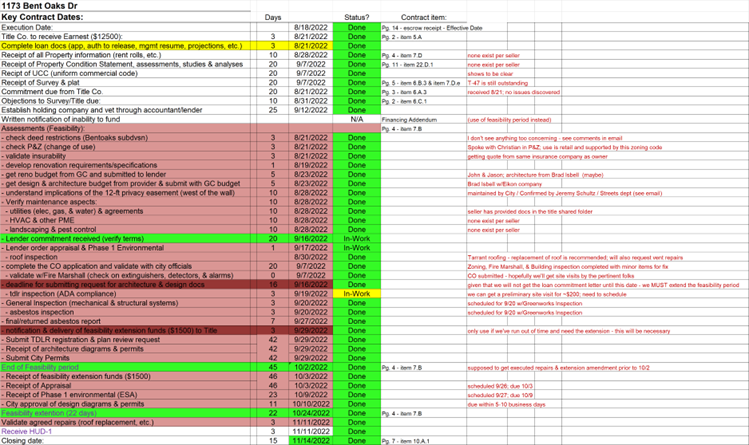 Materials & features:
When dealing with commercial buildings, we find various aspects much different than residential construction – architecture, structure, mechanical systems, etc. This is why it is important to employ inspectors that are experts in commercial construction while performing feasibility/diligence. As an example – a few such aspects:
Structure/architecture – commercial buildings are sometimes 'stick built' but often utilize metal (steel), tilt-wall (concrete), and other types of building materials.
Structure/roofing– commercial buildings sometimes use composition roof materials but often utilize single-ply membrane roofing (TPO – Thermoplastic Polyolefin; EPDM – Ethylene Propylene Diene Terpolymer; PVC). It is important to engage with a roofing company that specializes in commercial roofing materials.
Structure/mechanical systems – commercial buildings sometimes use HVAC systems but often utilize 'packaged' air & furnace capabilities – the exterior unit (which may be 25+ ton) is similar to a home air condenser (although much larger); however, this unit is combined together with an internal heater element (often placed in each office or a localized area) all tied together by a sophisticated controller unit (DCS – distributed control systems). These ac/heat units are called RTU/VAV-FPTU units – (remote terminal unit)/(variable air volume-fan powered terminal unit). Additionally, often these units are powered by 3-phase/460-volt infrastructure. It is important to engage an HVAC company that specializes in commercial equipment.
Structure/elevators – most homes do not have elevators (although some 3-4 story townhomes do); however, for commercial buildings we often find elevators (and accompanying infrastructure) when the building is 2 or more floors.
Additionally, for commercial buildings, because they are open to the public, they are subject to MANY more (and stricter) regulations & permitting requirements. This is why it is important to not only engage licensed commercial inspectors but also, potentially, civil & structural/architectural engineers. Additionally, it is always wise to engage City/County planning & zoning and other departments (Fire Marshall, TDLR inspector, etc.) along the journey.
It is also important to engage a realtor/guide that specializes in commercial property (like me 😊).  Although, I don't currently have my CCIM (certified commercial investment member) designation, I am a CCIM candidate (with various training courses, access to many valuable analysis tools (Site to DO Business; CoStar; etc.)), and significant experience with the purchase & sale of commercial properties.