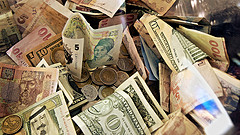 There has always been an on-going debate on whether it makes sense to purchase a home.  Questions like:
What is the long term return on investment (ROI) to purchase a home?  Is the ROI worth it?
Tax benefits, cost of ownership, acquisition costs, etc., etc. this goes on…
Would it be smarter to rent rather than purchase?  (Let's face it, everyone has got to live somewhere, so it does come down to this simple question; unless of course you want to consider living at a hotel for the rest of your life!)
What about other investments – would it be better to invest in stocks, bonds, or other similar investments?
Hmmm…well those are interesting questions, but when we consider owning a home is it ALL about a return on investment?  Or are there other factors that cannot be measured?  Certainly there are.  As mentioned in one of my other blogs a few aspects about home ownership that simply can't be measured, such has the neighborhood where our children grew up, or the school system nearby where education plays such an important role, or the very security and foundational idea of owning your own place.  Owning a home is more than just financial, it can also be emotional, and certainly life changing.
Remember these famous words from the Declaration of Independence – "We hold these truths to be self-evident, that all men are created equal, that they are endowed by their Creator with certain unalienable Rights, that among these are Life, Liberty and the pursuit of Happiness".  Did you know that the original draft stated, "and the pursuit of property", which was ultimately changed to the "pursuit of happiness".  It is interesting that the founding fathers equated the pursuit of property with the pursuit of happiness.  They had the idea of independent rights, posterity, enjoyment of life and liberty, the means of acquiring and possessing property.  Wow, that's a much better expression of those warm feelings of ownership than I stated above!  For a great discussion of this aspect see "Why was Thomas Jefferson's phrase. "Life, liberty, and the pursuit of property" Changed to Happiness?"
Whoops!  This a real estate blog…I better get back to the subject at hand – return on investment; rent vs. own.
Given our current economic condition, many folks are suffering from unemployment and in many cases homes have lost significant value.  One might reason, given the current conditions, that it would not make sense – financially, to own a home.  Various studies over long periods of time (100 year) indicated that ultimately there is financial benefit to owning a home.  In some family situations, the home is the key asset owned by the family.  It, of course, implies that the longer a home is held (and potentially passed onto to heirs) the more beneficial to the family financial situation.
For an  interesting 9-part article related to home ownership vs. ownership of stock see –Stocks vs. Real Estate
Note that the above article leans more towards stock ownership than real estate.  [Hey, aren't you a real estate broker?  What are ya think'n?]  Fair and balanced, I guess.  I'm just trying to be honest and help folks to give consideration to various factors.  There are articles that lean the other way too.  Take a look at this article (U.S. Becoming 'Rentership' Society) that shows survey results of 2500 families:
86 % of homeowners polled still feel owning a home was a good investment.
85 % say they feel, "owning a home is one of their proudest accomplishments."
Of Americans that don't currently own a home, 69 % agree, "No matter what happens in the U.S. housing market, owning a home is still an important goal in my life."
One of the most interesting calculators that I've found is this one provided by the New York Times –  Is it Better to Buy or Rent?  This calculator includes many various factors that will help with the decision.  I noticed by playing with it, that generally, if you want to stay in a home for some period of time then it is better to buy rather than rent.  Check it out if you are trying to make such a decision.
Other interesting articles:
Contrasting Real Estate with Comparable Investments, 1978 to 2008.
6 top benefits of owning a home
Also, the other aspect of ROI, see my blog related to ROI of investments made to the house.  What's the best 'bang for buck'?
I would be honored to help you with your real estate needs and happy to explain tax benefits and other aspects related to financing a home or investment property. Just give me a call or contact me.