I have had many opportunities to work with listing/purchase of manufactured homes in various community parks (in the DFW area) and find that there are many false/bias perceptions about this type housing. I hope that the below info will be tremendously helpful as you consider this type home. First, it's important to understand the differences between the terms "mobile home", "manufactured home", and "modular home". Often these homes are called 'trailers'. [Likely due to the connotation of homes that can be moved via trailer or as a trailer.]
A "mobile" home is a factory-built home prior to 1976 (there were no standardized construction standards);
A "manufactured" home is a factory-built home constructed after 1976 (to highly regulated standards set by HUD (department of housing & urban development);
A "modular" home is a factory-built home constructed after 1976 (to highly regulated standards often higher quality than stick-built homes) and usually with permanent foundation (constructed in sections and assembled on-site).
For a fuller explanation of these differences see: https://www.claytonhomes.com/learn/home-buying/mobile-manufactured-and-modular-homes-defined
It's also important to understand that manufactured homes have been built to certain wind-zone standards which apply to specific areas in the US. For homes located in the Dallas-FW area it is appropriate that the homes be rated as wind zone 1. For a fuller understanding of wind zone locations: https://www.claytonhomes.com/studio/how-to-find-your-mobile-home-wind-zone/
When I talk to folks about this type home some of the key objections (and negative perceptions) that I hear:
They are poorly constructed (False) – since 1976 (as mentioned above) manufactured homes have been built to high standards set by HUD which control:

Design & construction
Body and frame requirements
Thermal protection
Plumbing and electrical
Fire safety
Energy efficiency

They depreciate in value (Mostly False) – this is highly related to the community in-which they are located. The old term concerning purchase of homes – 'location, location, location' still applies for manufactured home communities. For a top-notch community, such as Harston Woods in Euless, TX, homes generally appreciate. Like all homes – which are a significant investment – the homeowner needs to maintain (and update) the home (over time). For homes that are well-maintained – generally their value goes up in-step with the economic factors that affect the area in general.
The cost of the land lease makes me uncomfortable (understandable but here are some key thoughts about that) –

The land lease covers amenities in the community – typically the land lease costs do include amenities in the subdivision such as:

Community Pool(s)
Community fitness center
Park(s) & playground(s)
Walking trails and dog/pet areas

The land lease – makes possible for the homeowner to move the home to another location (such as land that they purchase) if they so desire. They can take their investment with them.
The land lease – allows control over the subdivision; whereas in most traditional subdivisions (even those with HOA's) it is not possible to restrict – in these subdivisions the following is possible:

Can restrict home ownership from those with criminal background or offenses
Can restrict homes from being leased or rented (implying the subdivision is comprised of homeowners only)
Can restrict home ownership from those not financially able
Can enforce community guidelines (folks not adhering to community guidelines (such as maintenance of their homes) can be ejected – they must move their homes out of the subdivision)

The land lease – is a similar cost to that of property tax on a traditional home. The property tax for manufactured homes on leased land is very low; however, for traditional homes it can be quite costly. The average property tax rate in the DFW area is ~2.5% of home assessed value. The median price of traditional homes in DFW is ~$344,000 – of-which this property tax amount would be 344,000 x .025 = $8600/year (or $716/month). When we compare this cost to lot rent of a manufactured home in a community we find it very similar.

The type of community is less desirable (crime, schools, etc.) (Mostly False) – this aspect certainly does exist in some manufactured home communities (as well as many stick-built subdivisions) but when we consider top-notch communities (such as Harston Woods/Euless) we find excellent communities with low crime rates, excellent schools, and zero criminal offenders. Compare to other communities and you'll find that Harston Woods is an excellent, family-oriented, community:
How affordable are these homes?
Typically, manufactured homes in the DFW area are going to be priced lower than $200K (for the house itself). [Manufactured homes range in price as low as ~$60K for older homes up to ~$200K for new homes.] Land lease prices are typically in the ~$580/month range. Some key considerations:
Property tax – typically property taxes for manufactured homes are significantly less than stick-built homes; as little as 1/3rd the cost of a stick-built home. For instance, a $150K stick-built home in the DFW area will have property taxes of 2.5%-3.0% ($3,750-$4,500 or $312-$375/month) depending upon location. Versus a similar priced manufactured home at less than $1500/yr (or $125/month).
Note – manufactured homeowners (on leased land) in Texas can claim their home as a 'homestead'. Also, other property tax exemptions can apply (such as 'over-65').
Price-per-square-foot is significantly less for a manufactured home – one gets more 'bang for their buck'.
The Living experience – In comparison to townhome/condo or apartment living – the manufactured home sits on its own independent lot – not stuck directly besides, below, or above another residence.
A comparison of condo/townhomes & apartments versus manufactured homes (in Harston Woods) based on size, age, and price-point investigating different types of homes that cost less than ~$1700/mo: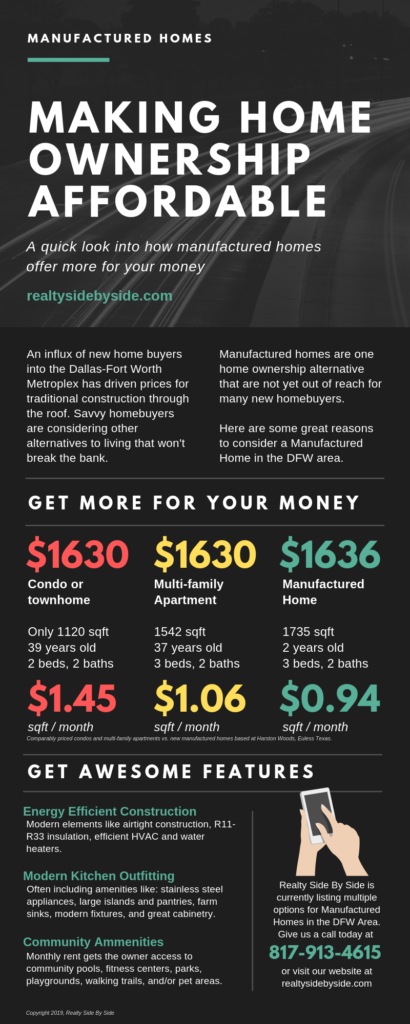 Manufactured homes are a viable solution for many homeowners and considered a huge solution to the 'affordable housing crisis' that exists in communities today :
https://realtybiznews.com/manufactured-homes-the-answer-to-americas-affordable-housing-shortage/98747318/
Purchasing new construction manufactured homes – when one investigates new manufactured homes they will find homes with many of the typical features that we find in new construction of stick-built homes:
Open floorplans utilizing sheetrock walls, crown molding, quality flooring and materials:

Granite and/or formica counters
Stone/tile – flooring, shower surrounds (with accents), fireplace (with ornate mantels)
9-ft ceilings; vaulted ceilings; trey ceilings

Kitchens with amenities like:

Stainless Steel appliances
Large Islands & pantries
Farm sink & modern fixtures
Quality cabinets; stone/tile backsplash
Pendent & can lighting

Energy efficient low-e windows, doors, insulation, and HVAC systems

Airtight construction
R11-R33 insulation
Energy efficient water heater & (SEER 14/15) HVAC systems

MBaths with amenities like:

Dual vanities & hard/formica or granite counters
Large jet or soaking tubs & separate showers
Low-flow toilets
Large walking closets

Home warranties which includes structural and mechanical aspects
Pier & beam foundations secured using the Oliver Technologies design method
See this great article about how manufactured homes are constructed: https://www.mhvillage.com/blog/how-are-mobile-homes-built
Here's a couple of videos showing the construction process:
Additional info: https://www.claytonhomes.com/our-building-process
Tax writeoffs – some may believe that there are no tax benefits when owning this type home – not so (I always recommend that folks rely on advice from their CPA/Accountant/Attorney first) – see this great article about tax writeoffs for these homes: : https://www.triadfs.com/news/do-home-ownership-tax-breaks-still-apply-to-manufactured-homes]
Some pictures of new modern manufactured homes: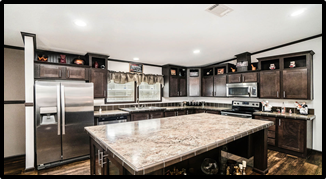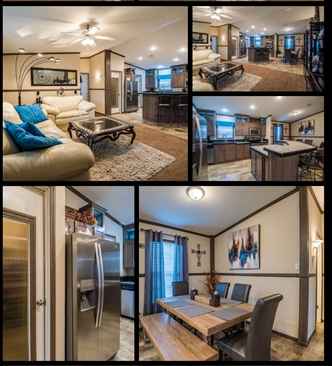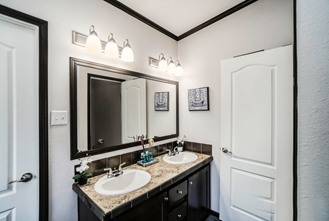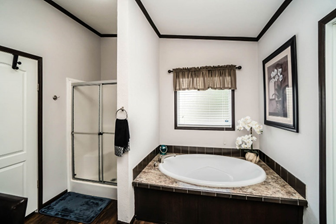 Conclusion – the general observation is that one can purchase a much newer, larger, manufactured home for less cost/month and ultimately still can gain value appreciation and autonomy. An apartment has zero value appreciation and townhome/condos, for the same price, are generally going to be older and smaller, and is the living experience more like apartment living.
Note also MH Industry Trends & Statistics – we find that 90% of manufactured homeowners are satisfied with their homes and 38% of those anticipate never selling their homes (while 62% plan to stay for at least 10 or more years). Check out other interesting survey results from manufactured homeowners – https://www.mhvillage.com/pro/data-infographic-manufactured-housing-industry-statistics/
====================================================================
Whether you're looking for manufactured homes in a Community, or other type of real estate needs – I can help! I am experienced in residential (traditional homes & mfg home on leased land (TDHCA); also commercial real estate including land and all types of commercial properties (industrial, office, retail, etc.).
Check out my ratings and reviews: https://www.zillow.com/profile/NMiller999/