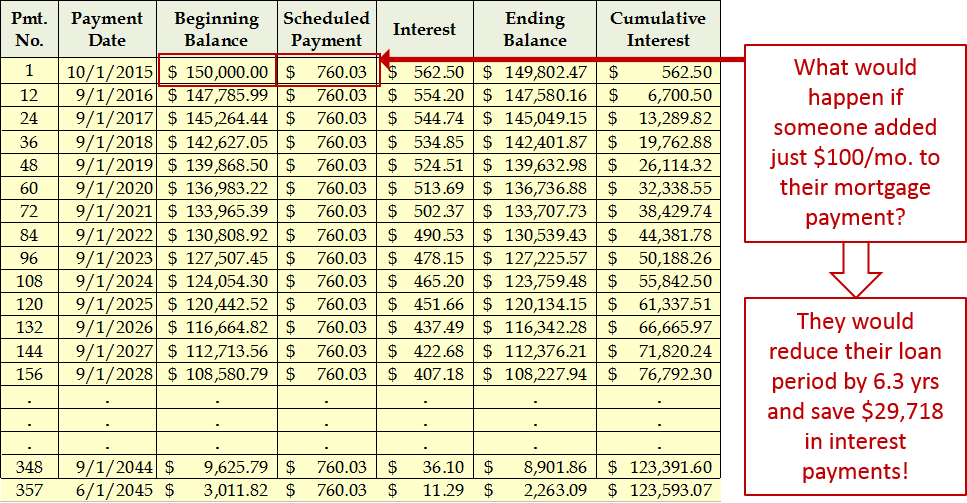 Would you believe that with just a small change in your monthly mortgage payment you could reduce the loan payoff period as well as save big bucks in interest payments!
Most people probably don't look too closely at all that documentation that they get when they close on a new home purchase – but notice one of those documents is called the Loan Amortization schedule.  It shows the mortgage balance, principle and interest, and the schedule to pay off the loan.  One will notice that the principle payment stays the same while the interest payments reduce over time.   The BIG news, assuming the loan allows for early payoff, is that one could add an extra $50 or $100 (or more) a month and make a HUGE difference in reducing the total amount paid on the loan.  Also, that small change will reduce the time period to payoff the loan.  SO, for a hypothetical mortgage balance of $150K, an extra $100/month paid toward the principle, would reduce the total loan period by 6.3 years and save  $29,718!!!
Combine that thought with my other blog –
THE MORTGAGE INTEREST DEDUCTION CAN HELP ME MAKE THE MONTHLY PAYMENTS??!!
If you want to make this type of calculation for yourself – Click Here
As always, Buying or Selling, I'd love to help you with your real estate needs.  Contact me!