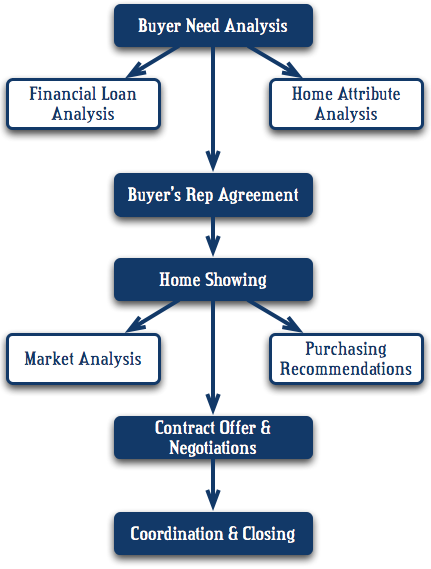 Please contact us when you want to start – we'll help you!
Finances – One must understand whether they can afford to purchase a home.

Some can purchase homes with all cash; however, most folks need assistance from a lender.
Generally, one needs a 580 credit score, stable employment, and debt-to-income ratio of 35% to 40% (implying that one's debts including mortgage do not exceed 35/40% of their income).  This equation is very unique to the individual's financial situation.  It's important to engage with a lender to know exactly what credit/income requirements are necessary (see item #2 below).
When one purchases a home there are several financial components of their loan – mortgage principle & interest, taxes, and home insurance.  This group of things is usually called 'PITI'.
There are various mortgage calculators available online but few include all the components necessary to understand not only the monthly payment but also what is needed for a down payment, closing costs, etc.
Before one goes any further with the process one must get a pre-qualification/approval letter from a lender – this helps to define what price range of home one can seek and also shows good faith when working with a REALTOR® to show homes.

Contact the lending company of your choice (Mortgage company; Savings and Loan; etc.) and get a pre-qualification or pre-approval letter. 

If you're not certain about which mortgage company to contact please ask us about mortgage brokers that we can suggest to help you find the best lender for your particular situation

.  From a real estate broker perspective, this is the first step required to search and show homes.  This is a prerequisite for making an offer on a house.
What is the difference between pre-qualification and pre-approval?

Pre-qualification – the lender requires an application form be submitted which will require you to provide key financial info about yourself: employment info, salary info, debt info, available funds, etc.  The lender will then provide you a "pre-qualification" letter that specifies the maximum price of house that you can afford to purchase given your circumstances.  The pre-qualification letter takes less time to process but is not as thorough of an investigation as the pre-approval process.
Pre-approval – the lender requires an application form be submitted which will require you to provide key financial info about yourself: proof of employment, salary, debt, etc.  The lender will then determine your ability to actually obtain a loan and what the lender will commit to lend.  The lender will then provide you a "pre-approval" letter that specifies the maximum price of house that you can afford to purchase given your circumstances; this amount may be affected by the home appraisal and other factors.
Buyers Representation Agreement – before we can adequately represent your interests and assist you to find a home it will be important for you to understand and sign a Buyers Representation Agreement.
Buyer Need Analysis – We'll interview you to determine your desires and preferences concerning home features, pricing, location, and the real estate purchase process.  We want you to find the house of your dreams!
It does not typically cost the home Buyer to use a REALTOR®; commissions are generally paid by the home Seller.  Thus it is a VERY smart approach to engage with a REALTOR® to assist with the process and represent YOUR interests.  Realty Side by Side would be honored to become the REALTOR®  that you choose to assist with the journey!
Working with me – an ABR (Accredited Buyer's Representative):
Shopping! Once we've established your preferences we're ready to start shopping!  In some senses searching for a home is very similar to shopping – we understand that you don't want to take the first thing you see.  Buying a home is one of the biggest decisions of your life – it sets the tone for who your kids will grow up with and go to school; who your friends and neighbors will become; where your church and shopping will occur; your daily commute to work; the list goes on.  It's a big process, and we want to help to make it a great journey for you!
Finding the home that's "just right":

Deciding to buy/CMA – buying a home is a big decision.  We'll help you make your decision by providing you with quality information concerning market/location and pricing conditions; home features and condition recommendations; there are many components to consider but we're here to help make the complex simple!
Offer & Negotiations – We'll help you follow through on your decision by recommending pricing and terms of the contract offer.  We'll negotiate on your behalf, keeping your interests foremost.  We'll determine the best strategy to bring about a win-win transaction.  We'll help you to get the best deal while balancing the risk of losing the deal due to conflicting interests (with the Seller).
Coordination & Closing – We'll help you to understand the contracts and various forms required to navigate the real estate process.  We'll work with the Escrow/Title agent to insure that everything is working smoothly towards a transaction close.  It's a complex business but we're here to help make it a great experience!
Move-in & the future – We'll help you understand what happens after you move-in; home warranty, homestead tax exemption, insurance, etc.
Selling? Most people move several times in their lives, so this may not be your final destination – give us the chance to List and Sell your property!  Who would be better than us; we helped you find this house to start with!  See

Seller Services

and Seller – How do I get started?
Let's Get Started!
Contact us and we'll help you get started on your real estate journey!